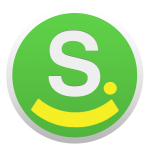 Start Usage Meter 2.4.3 has been approved by Apple and is now available on the Mac App Store.
Some changes were required since the deployment of a brand new Start.ca website (that looks fantastic!) which was incompatible with previous versions of Start Usage Meter. Most of the issues were corrected with a server-side adjustment, but there are some client fixes required.
This update:
Addresses several issues that were introduced due to the last update to the Start.ca website including:

Fixed an issue that caused usage data to fail to load after the latest Start.ca website update which could cause an error to display indefinitely
Fixed an issue that prevented a users usage key from being populated automatically after the latest Start.ca website update
Improved the crash resistance throughout the app to prevent future changes like this from causing the app to crash
Completely revamped daily usage window to address crashing and prevent future changes from causing the app to terminate
This update also has the benefit of increasing performance and reliability in the daily usage window, so I'm going to go ahead and take credit for that too.
Although the website has since been slightly modified to address some of the issues users on Start Usage Meter were experiencing and usage will now display properly on 2.4.2 and earlier, there will still be some crashing issues on the daily usage window that requires 2.4.3 to be fixed.
Additionally, there is a known issue on OS X Lion that is causing the date selector on the daily usage window to stop functioning. This has already been addressed in the latest 2.4.4 beta and will be released to the App Store sometime next month. This issue is due to a missing API on OS X Lion and does not affect OS X El Capitan or later. 2.4.4 will bring a fix for users on older operating systems.
As always, thanks for continuing to support the usage meter. I love seeing the emails of happy users.