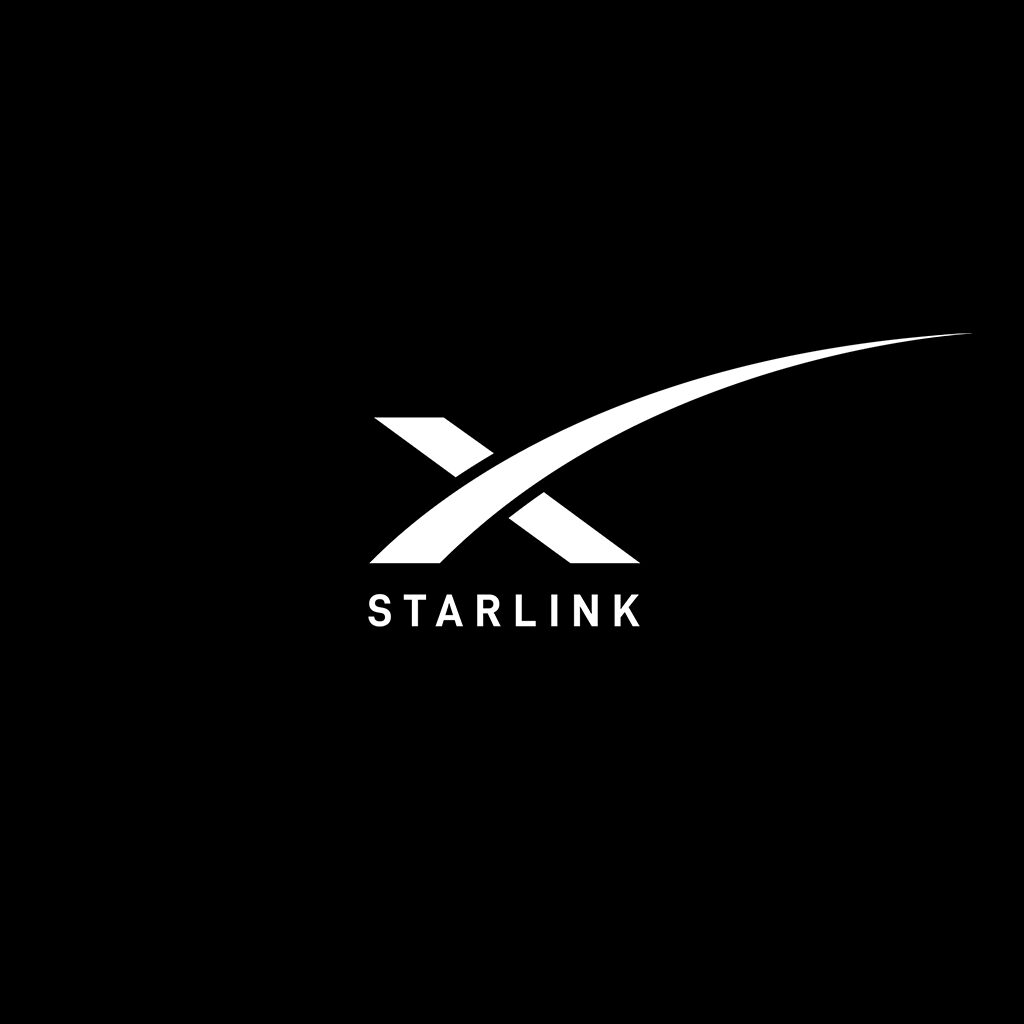 Entertainment while camping has always been at the front of our mind when considering upgrades to our motorhome. We've been using a few different options for RV internet, but none of them really offered a seamless experience.
I've been following Starlink since their announcement, since I always believed that it had the real potential to be a game changer in the RV world. Our order was finally fulfilled in February 2022 and we began using it at home prior to the camping season. Shortly before our camping season began: Starlink offered the ability to convert residential services to RV, which would allow us to pause and resume service as desired. This was a perfect fit for us!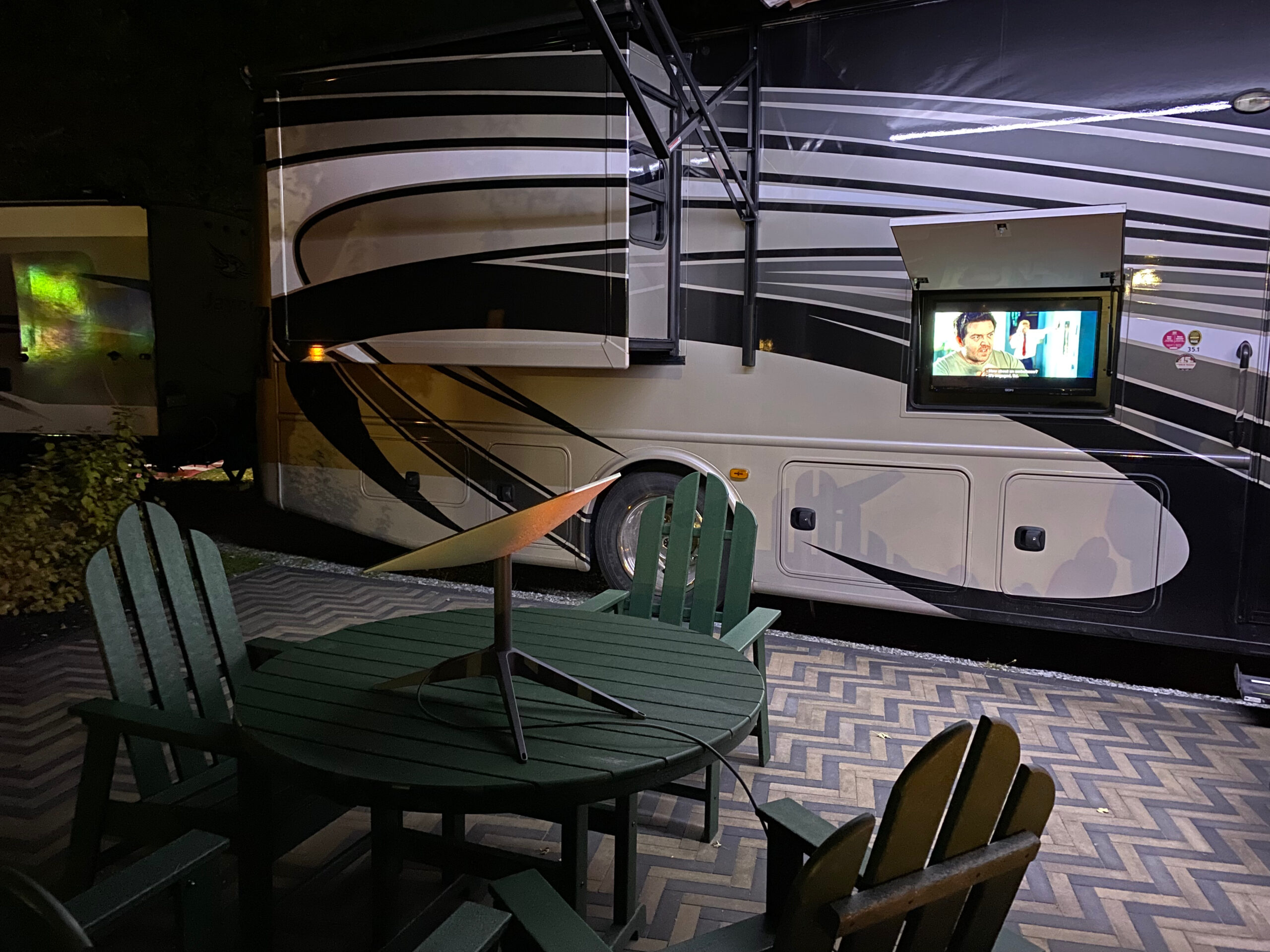 I was very happy to receive the rectangular Dishy (Starlink Terminal), since it meant that it was easier to store. We got our RV dealer to install an access port to a bay that would house all our networking equipment. We actually prefer the mobility of the current user terminal rather than one that is permanently mounted on the roof. A roof-mounted terminal, while convenient, will start to dictate where and how we park our RV.
We use the Starlink router in bypass mode and connected it to some Ubiquiti equipment using the ethernet adapter (yay dongles). Since our inverter powers all onboard outlets when shore power is gone, it means that we have Wi-Fi even during power outages.
We also grabbed Starlink's official storage case and it's been perfect for storing Dishy.
We camp relatively close to major cities in most cases, so we are typically using cells that are occupied by rural users living slightly outside urban centres. We've also camped in very urban environments. According to the capacity map from Starlink: we are almost always in "Low Capacity" areas, meaning that our expected speeds could be as low as 5Mbps download. We were okay with this, since 5Mbps should still stream HD.
We were also a little worried about tree cover, but we've only found one site that gave us even a slight amount of trouble with trees. Typical campsite tree obstructions don't appear to be impactful to normal streaming. I suspect that connections that are more sensitive to hiccups or complete drops might have a bit of trouble if tree cover is extreme. In our case though, trees don't seem to be giving us any trouble.
Full speed ahead
Starlink has outperformed our expectations during the entire camping season. It absolutely feels like our terrestrial home internet connection. Nothing about Starlink feels like a typical satellite internet experience (reminds me of when Royal Caribbean first launched Zoom and it felt closer to a land-based connection). Websites load fast, videos stream immediately, and all of our Apple TV's respond insanely fast when streaming.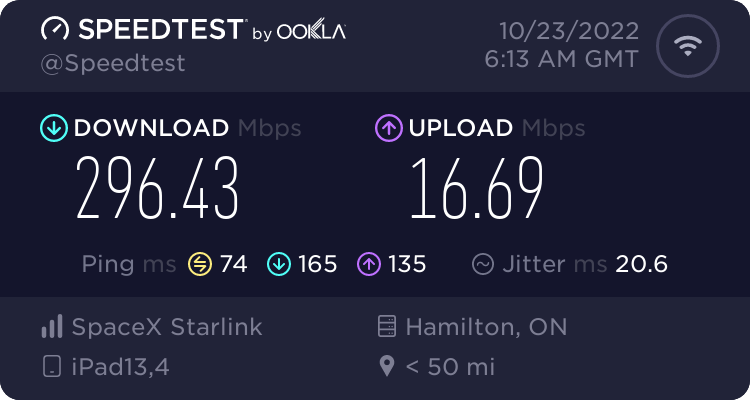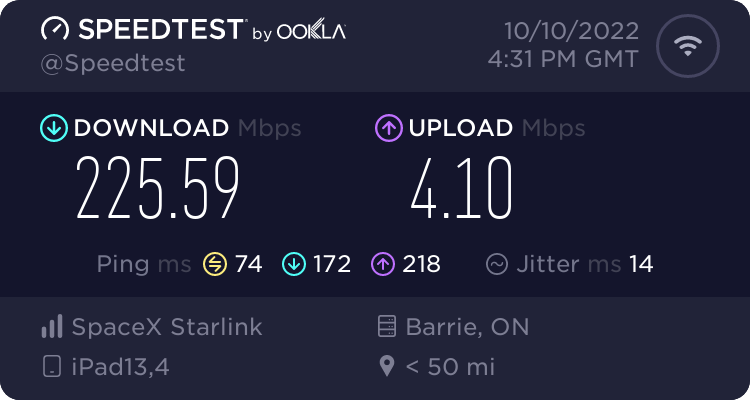 Our average speed over the camping season has probably been about 125Mbps down / 8Mbps upload. We frequently see over 150Mbps download in several areas. Latency is usually ~40ms-~80ms depending on the destination. US destinations typically have much lower latency than Canadian destinations.
On several occasions, we can usually get over 200Mbps download, but our sustained download is usually around 150Mbps. I've downloaded (and uploaded) massive server backups, performed typical cloud operations, and did basically everything I'd do at home.

Streaming Gaming (GeForce NOW)
After streaming HD movies on our Apple TV's in the RV and noticing the relatively low latency to US destinations: I decided that the numbers I was seeing in Speedtests were actually meeting (or exceeding) the requirements for a stable GeForce NOW session. I decided to put that 3080 tier membership to use and give it a shot.
I was pleasantly surprised to find out that GeForce NOW was able to carry a 4K gaming session at 120FPS pretty much flawlessly. No disconnections and smooth gameplay. There was the occasional hiccup during my gaming session, which I attributed to slight satellite gaps or the switching between satellites (although it could just have easily been anything else like general networking hiccups).
It certainly didn't grant me the same flawless experience that my home connection gave me; however, it was a relatively smooth experience. It's also nice to know that I have the option to fire up a game using GeForce NOW while camping.
Final Thoughts
Starlink for RV was probably one of the best investments we've made for our RV. We (like most people) are heavily using internet connected services that are thirsty for a lot of data. We also like having the conveniences of home in the RV, so being able to add the Apple TV's to each TV in the RV to just grab a remote and browse/stream is a huge benefit.
Ultimately Starlink for RV has done exactly as it has promised. Every time we setup Starlink at a new site, it performs flawlessly without any effort. We haven't had so much as a hiccup while camping with Starlink. Our speeds constantly rise above 200Mbps and always support smooth HD streaming without buffering, despite us being inside "low capacity" areas on the map.
I'd recommend Starlink for RV any day to anyone looking for mobile internet service while camping. I'll continue to update this blog with new posts about how the service is performing for us.
Thank you to Elon Musk and the entire SpaceX/Starlink team for creating and maintaining this service. It really is out of this world (pun-intended) and we hope to be a customer for a long time. It's also rare that something gets announced and actually makes its way to market as fast Starlink has.