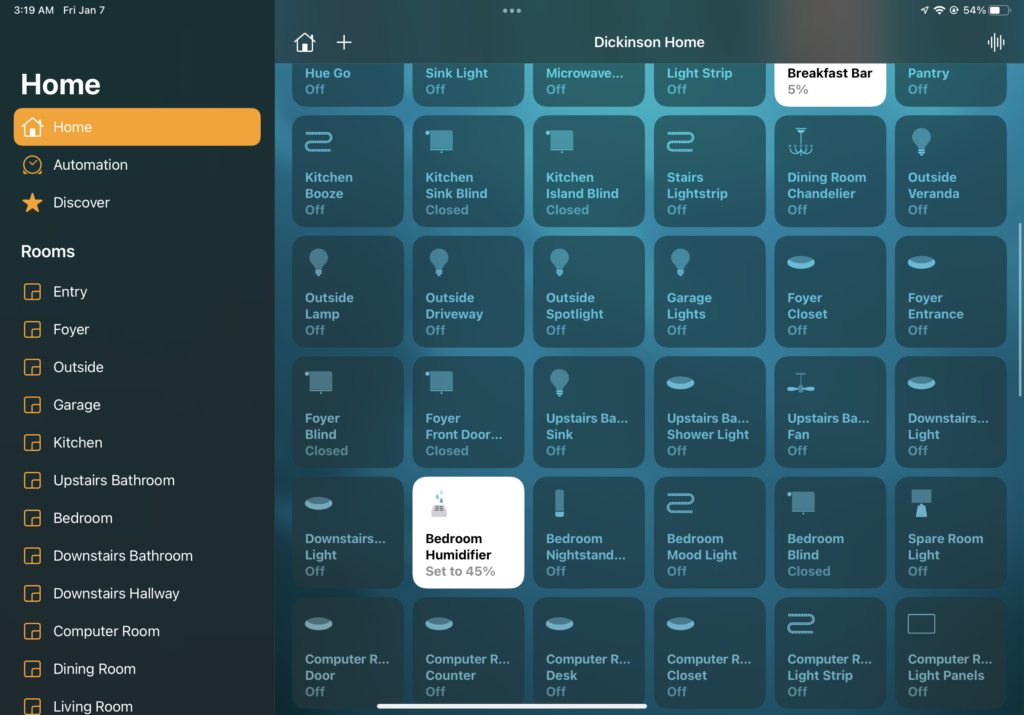 I've been a pretty big fan of Apple's AirPort lineup since around 2008. I've used the 802.11n Extreme's and I've had two Time Capsule's (the 802.11n and the last model in production: the 802.11ac tower). They've performed flawlessly at home and even in some small business environments. I've always been happy with them and they were one of the first consumer routers I've encountered that worked reliably without the need for any reboots or weird configuration changes.
As I added HomeKit devices to the network, the 802.11ac Time Capsule handled everything like a champ. All devices stayed connected and were rock solid (and fast)… However, I had noticed that one of my IoT devices was showing a Wi-Fi issue. It only connects periodically, so I figured it was some interference at the moment it tried to connect. It wasn't able to connect when I tried to manually connect it. I tried to reset it and input the Wi-Fi information again (thinking it was some sort of bug on the IoT device) to no avail. Then I realized that the number of devices on the 2.4GHz band was likely approaching some limit. I opened AirPort Utility and counted the 2.4GHz devices and sure enough: 32 devices on the 2.4GHz band. The 2013 AirPort Time Capsule must have a 32 device limit per band. This is when I made the decision to finally retire the AirPort in favour of a more modern router.
Hunting for a replacement
The criteria for my replacement would be pretty simple:
Consumer router with high performance. If I could not find a decent consumer router, then I was not against using an enterprise setup or prosumer setup. I really wanted a set and forget sort of system for my smart home.
Most Important: High 2.4GHz simultaneous client count.
Reputable company
Newer standards (Wi-Fi 5 at minimum to match the AirPort it was replacing or Wi-Fi 6).
The Options
Netgear
– This one was ruled out almost immediately as their only official documentation on the website stated a 32 client limit per band across their entire lineup. I believe that this has changed recently, but it was still concerning to see it in the knowledgebase.

Synology
The RT2600AC and MR2200AC seemed like good candidates. Their website explicitly stated that they tested simultaneous client counts in the 100's on each access point. I emailed them and received a response that there is no per-band limitation (I'm guessing 128 would likely be the line). Very impressed with their response time and that they explicitly stated their simultaneous client count tests (as a high number of simultaneous clients on the 2.4GHz band was the most important factor for me)

AMPLIFI
I am a huge fan of Ubiquiti and their consumer lineup interested me. I didn't want to maintain controller software, AP software, and gateway software. This meant the AMPLIFI line was my best bet. They don't list simultaneous client specs anywhere and seem hesitant to give any concrete numbers; however, anecdotal evidence on the internet had many users with 70+ Wi-Fi clients on the AMPLIFI Alien.
The First Choice
I originally chose the Synology RT2600ac. It was shipped by Amazon from their US warehouse (since I don't believe the RT2600ac has Industry Canada certification, which I discovered a little later). It wasn't the prettiest router, but it ran a familiar Linux OS with their SRM software on top of it. Upon initial setup, it worked well and I was very happy. Most importantly: connected over 32 clients to the 2.4GHz band. Success!
Over the course of a couple of weeks, I was having some issues with some VOCOlinc light bulbs and devices. I couldn't get them to remain connected and had trouble identifying the cause. Wi-Fi standards implementations are never 100%, especially in IoT devices and this was likely the cause of what I was seeing.
I could get a ton of clients connected to the 2.4GHz, but some devices had some weird connectivity problems with no discernible pattern. Ultimately after a lot of troubleshooting and configuration changes, I ended up returning the router to Amazon in favour of an AMPLIFI Alien.
AMPLIFI Alien
I had the AMPLIFI Alien set up in no time (what a great little app) and was able to get all my devices connected to it over Wi-Fi (well over 32 clients on the 2.4GHz). As of writing, I have about 70+ clients connected to the AMPLIFI Alien and the connections are rock solid. My smart home network has continued to grow with the AMPLIFI Alien as the sole router solution and has handled the growth flawlessly. The ability to block IoT devices from the internet with a simple interface is an added bonus (since I exclusively use HomeKit cameras and products and don't want the devices to be able to directly access the internet).
Very rarely do I find a product that really gives me the confidence to recommend it without hesitation, but the AMPLIFI Alien really is one. It has turned my HomeKit home into a rock solid smart automation paradise. The router has great aesthetics and just looks cool. It's managed by an app that exposes most settings you'd ever want to mess with in a consumer router. It plays really well with Apple devices and scales well with a large number of clients. It can also be meshed with additional AMPLIFI Alien units.
If you're looking for a reliable, simple, and powerful router for your HomeKit home: the AMPLIFI Alien may be a great fit. I've been using it for a little over a year now and it's been rock solid while I continue to throw more devices at its 2.4GHz band.